Apply to Purchase:
Any time
While your contract is a rental contract, you can make us an offer to purchase at any time. Some price guides are set out above. For further price details at anytime during the rental period please contact us on 1300 858 911 (purchases are subject to approval and some conditions apply).
Brand New
SmallHD 702 Bright HDMI/SDI on Camera Monitor
Add to Cart
* Please note an initial freight, handling and account administration fee of $14.90 will be added to the first month's rental payment.

The sharpest daylight viewable field monitor available.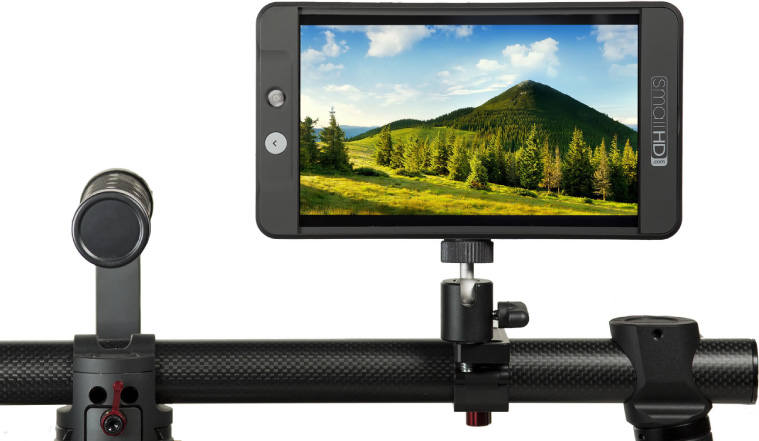 It's bright.1000 Nits
It's sharp.1080
Enough said.
The SmallHD 702 Bright is the first of a new line of feature rich 7-inch monitors, the 700 Series. With a 1000nits, 1920x1080 LCD,
The 702 Bright is pixel perfect for daylight shooting.
More Resolution, Less Reflection.
The 702 Bright represents a new breed of daylight viewable displays. Along with its exceptional brightness,
the LCD panel features optically bonded glass with anti-reflective coating.
Ruggedly Handsome, Beautifully Designed.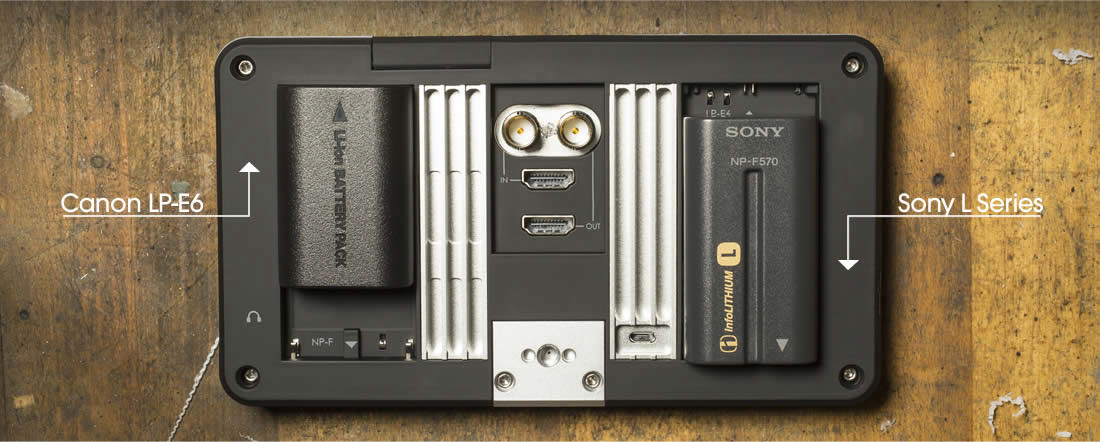 Housed in an aircraft grade aluminum unibody, the 702 Bright is both durable and functional. Contributing to its slim physique is an
industry first, Sony L Series and Canon LP-E6 battery solution (No battery plate required.)
Powerful Processing, Intuitive Interaction.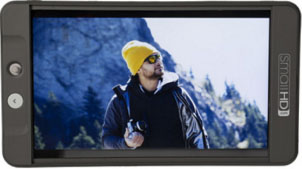 3D LUT APPLIED
FALSE COLOR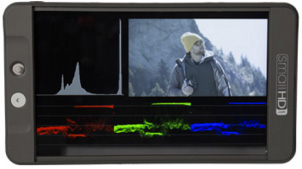 HISTOGRAM + SCALED IMAGE + RGB WAVEFORM
The 702 Bright is built on SmallHD's Page Builder OS. It's the operating system that feels less like firmware,
and more like a production assistant. Create multiple pages (12 max), populate each with features you wish to use such as scopes,
looks or focus assists then switchback and forth with a left-or-right flick of the joystick.
Display
| | |
| --- | --- |
| Panel Type | LCD |
| Size Diagonal | 7 |
| Resolution | 1920 x 1080 |
| Pixel Density (PPI) | 323 |
| Aspect Ratio | 16:10 Native |
| Active Area | 7.0 in |
| Brightness | 1000 nits |
| Contrast | 1000:1 |
| Color Gamut | 85% NTSC (100% Rec 709) |
| Color Depth | 24 Bit (8bpc) |
| Viewing Angle | Full 179 Degrees |
| Backlight Type | LED |
| Adjustable Backlight | Yes |
| Temperature Adaptive Color | Yes |
Input Signal Types/Formats
| | |
| --- | --- |
| 3G-SDI |   |
| HD-SDI | RGB/YCC 4:2:2 and 4:4:4, 1080p60, 1080i60,1080i59.94,1080i50, 1080p30, 1080p25, 1080p24, 1080p23.98, 1080pSF23.98, 1080pSF24, 1080pSF25 , 1080pSF29.97, 720p60, 720p59.94, 720p50 |
| SD-SDI |   |
| HDMI | Supports 8/10/12 bit color, 1080p60, 1080p59.94, 1080p50, 1080i60, 1080i59.94, 1080i50, 1080p30, 1080p25, 1080p24, 1080p23.98, 1080pSF23.98, 1080pSF24, 1080pSF25, 1080pSF30, 720p60, 720p59.94 , 720p50 |
| Component |   |
| Composite |   |
| Audio | HDMI and SDI |
Output Signal Types/Formats
| | |
| --- | --- |
| 3G-SDI |   |
| HD-SDI | RGB/YCC 4:2:2 and 4:4:4, 1080p60, 1080i60,1080i59.94,1080i50, 1080p30, 1080p25, 1080p24, 1080p23.98, 1080pSF23.98, 1080pSF24, 1080pSF25 , 1080pSF29.97, 720p60, 720p59.94, 720p50 |
| SD-SDI |   |
| HDMI | Supports 8/10/12 bit color, 1080p60, 1080p59.94, 1080p50, 1080i60, 1080i59.94, 1080i50, 1080p30, 1080p25, 1080p24, 1080p23.98, 1080pSF23.98, 1080pSF24, 1080pSF25, 1080pSF30, 720p60, 720p59.94 , 720p50 |
| Component |   |
| Composite |   |
| Audio | Stereo Out (headphones) |
Connector Type
| | |
| --- | --- |
| SDI | 1 SDI (in), 1 SDI (out) |
| HDMI | 1 HDMI (in), 1 HDMI (out) |
| Component |   |
| Composite |   |
| Audio | 1/8in Mini Stereo Headphone |
| Power In |   |
| Power Out | LP-E6 style / Sony L style |
| USB | Micro-USB 5V @ .5A |
Controls
| | |
| --- | --- |
| Primary Control Interface | Joystick + "Back" button |
| Record/Capture | Capture button |
| User Defined Functions | Uses "Pages" in conjunction with the Joystick control to provide any number of user defined monitoring options. |
| RF Wireless Remote / External Control | Via Remote |
| USB Remote / External Control |   |
Data I/O
| | |
| --- | --- |
| Storage | SD Card (full-size) |
| USB | Factory use and Future user functionality |
| Wireless |   |
| Wifi |   |
Power
| | |
| --- | --- |
| Connector Type | LP-E6/Sony L style |
| Voltage | 6.0 - 8.4 volts |
| Power Consumption | 11 watts |
| Battery Plate Included | Canon LP-E6 / Sony NPF |
| Recommended Power Supply | LP-E6 coupler with built-in 7.2v, 2A regulator |
| Overload Protection | Yes |
| Smart Battery Compliant | Yes |
| Battery Types | LP-E6 and/or Sony L Series |
| Battery Chemistry |   |
| Output Voltage (VDC) |   |
| Battery Capacity (mAh) |   |
| Battery Charging Time (hours) |   |
Environmental
Compliance

CE, FCC, IC

Operating Temperature

30F to 90F

Storage Temperature

0F to 120F

Screen Protection

1mm Acrylic (user replaceable)

Height

4.23

" (10.74cm)
Width

7.56

" (19.20cm)
Depth/Length

.95

" (2.41cm)
Weight (Item Only without battery)

17

oz (481.94g)
Weight (Packaged)

29.6

oz (839.14g)
Mount Points

(4) ¼-20 thread points (bottom, back & sides)

Note:
 
Software
| | |
| --- | --- |
| Pixel Zoom (type) | 2x & 4x with smooth pan via joystick |
| Frame Guides | Yes |
| DSLR Scale | Canon, Nikon |
| Custom Scale | Yes |
| Anamorphic De-Squeeze | Yes |
| Image Rotate(Manual/Automatic) | Yes |
| Image Flip (Manual/Automatic) | Manual and Auto Flip |
| Cross Conversion | Yes |
| Focus Assist (Colors) | Yes |
| Peaking | Yes |
| False Color | Yes |
| Zebra | Yes - Multiple |
| Waveform | Yes |
| Vectorscope |   |
| PIP | No |
| RGB Parade | Yes |
| Histogram | Yes |
| Horizon Indicator | No |
| Image Capture | Yes with Dedicated Capture Button |
| Dailies Recording/Playback |   |
| Master Recording |   |
| Wifi Streaming |   |
| Custom LUTS | Yes |
| LUT Creation | No |
| LUT Downstream | Yes |
| LUT Import | Yes |
| Onion Skinning |   |
| Image Overlay | Yes |
| Blue Only | No |
| Firmware | User Upgradable. Current Version: 2.0 |
| Audio Meters | Yes |